Offered privately for sale by owners.
$28,500.

Cabin and Exterior photos

Port foredeck, looking aft. Note Ipé hatch,

dorade vent and box, traditional hardware, running lights, etc.

Cockpit sole and seats finished in Ipé,

bulkheads in traditional fir bead paneling.

Starboard looking aft. Cooler on left, electrical panels on right. Deck steps hinged for battery access and stowage.

Clean, easy access to the Perkins engine.

Wanderer Additional Specifications & Notes
Unusual design characteristics: Built of white cedar, grown hackmatack frames, grown juniper stem & sternpost, birch keel; Original keel enhanced with 12" x 28' I-beam filled with re-bar reinforced cement. Built on shore in Topsail Bay Newfoundland . No apparent lofting – built by rule of thumb. Incredibly stable sea boat that was designed for the Maritimes, but perhaps slow by current sailing standards!
Previous History of Boat: Originally built for fishing and chartering, the original owner motored her around the coast of Newfoundland , (for the delivery when he commissioned her, he arrived late & nearly missed his own wedding – his eventual wife never stepped aboard)! She was featured in a 1960's short film promoting tourism of southern Newfoundland . Eventually she ended up in Boston where a young marina shipwright bought her, and commenced several rebuilds. First rebuilding the cabin, then rigging her as a gaff cutter with a very large main – sailing her (with his new bride) to Florida , then returning, building a larger cabin and re-rigging her as a ketch. They sailed her to the Caribbean , Bahamas , and lived aboard several years and through several hurricanes. They sailed back up the coast in the mid 1980's and settled on the eastern shore of Maryland . There, they kept her for a couple of years, before deciding that it would be best to move on. She was sold to a man from Washington DC who, in three months, created damage that would take five years to reverse. Having held paper on the boat, and since this man stopped paying, she was repossessed and sold for the balance to the present owners (1994).
Maintenance/Rebuilding Program: The old battle between man and machine raged on. Every system in the boat was compromised when she was purchased in 1994. In fact, the first inspection revealed a vessel that was sitting on the bottom with over a foot of water in the cabin (The decks were open, and she did not have automatic bilge pumps.) An agreement was reached and the present owners arrived in St. Michael's Maryland in April with a large van full of tools, wood, and nautical equipment. The plan was to work on the boat for two weeks, ready her for sea and return to Connecticut . This was an ambitious goal, but was achieved by May first. Initially there were some engine problems, the previous owner had crafted a new topmast and mizzen gaff & boom (all lost by the middle owner,) and these were stowed on deck. Through the C&D Canal , the engine (at the time a 1940's Scottish diesel – a 25 hp "Kelvin") gave out. After being towed to Delaware City , it was determined that a new set of heads was required. A week later we contacted the man who installed this engine way back when, (remembered the boat fondly,) and traveled North to St. Anthony to find two old 2 cylinder engines removed from a couple of shrimp boats. These were shipped down, and a month later, now completely rigged, we were off to Connecticut . The years that followed have included further cabin reconstruction; the addition of brightwork in and around the cabin & a completely new cockpit was decked in Ipé. All hatches were either rebuilt or made new of mahogany or Ipé. All wiring was replaced; all plumbing of fresh water, waste and the head was replaced.
The Perkins Diesel engine was purchased in May of 2000, and continues to delight with reliability and power. We do miss the character that was the old "Kelvin" engine that was original to the boat. (It remains sitting outside our shop, however, if we feel the need to look at it…)
In 2001, she was awarded a commendation from Mystic Seaport's Antique & Classic Rendezvous for excellence and restoration. The boat has been carefully maintained and is sadly being offered for sale because of a change in time and resources available for cruising.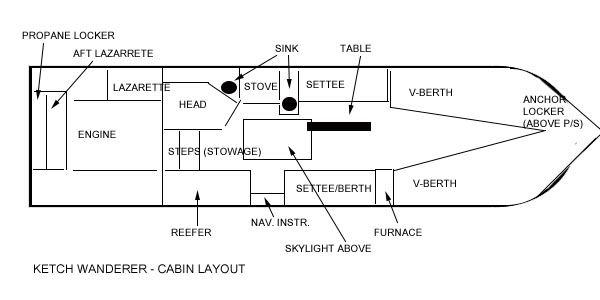 1984 Projects: New Rudder, Transom, Sails...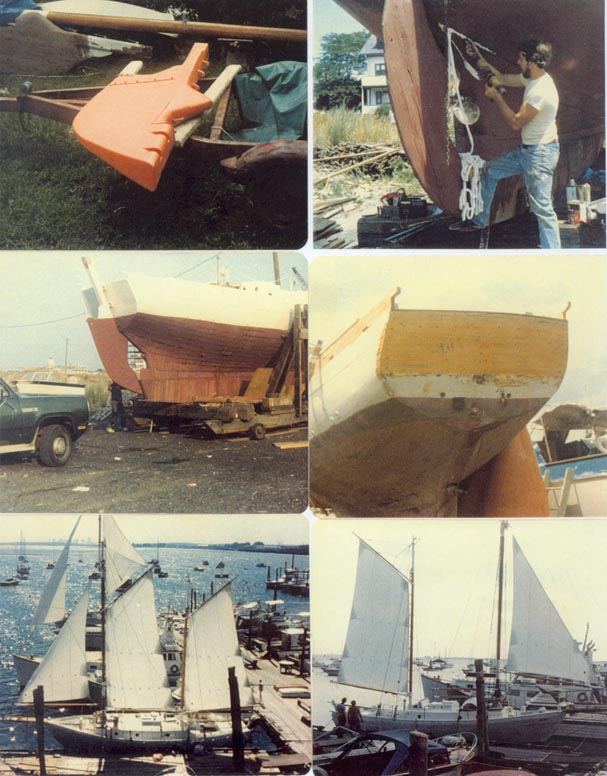 1985 Projects: Planking, Interior Work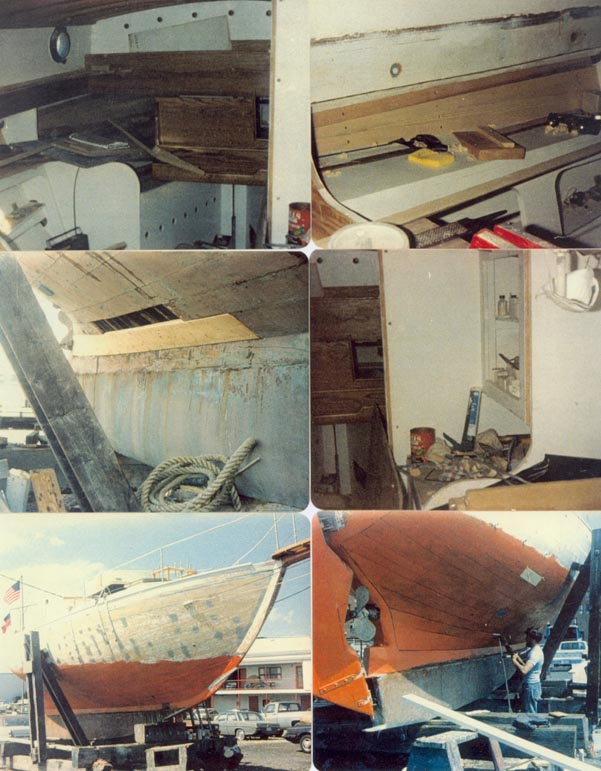 GO TO Current Pix