Organ Renovation Project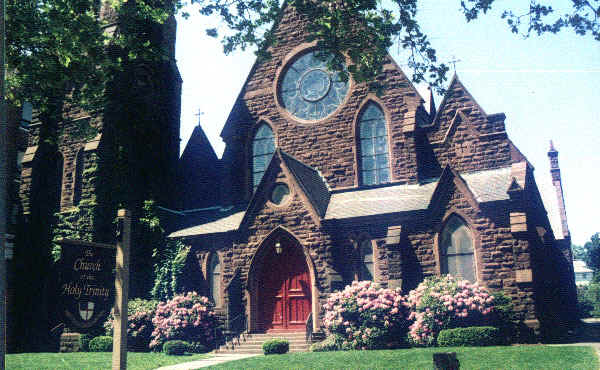 381 Main Street - Middletown, Connecticut
Parish est. 1624 - Church built 1874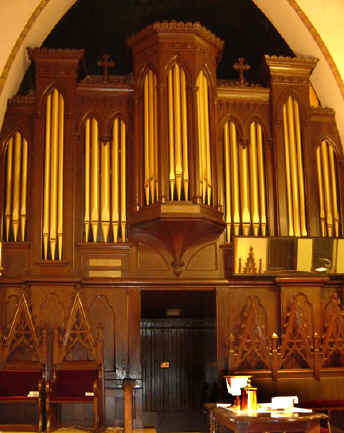 The current organ (The Haskell Memorial Organ) is a 1921 Casavant instrument that incorporates the facade and much pipework from the 1861 Hook & Hastings organ. After several decades of "make do" repairs and various additions, we are beginning to piece together a comprehensive rebuilding project that will ensure this instrument will continue for many generations to come.
History of the Organs: A TIMELINE
1760 "Crown and Mitre" organ donated by Capt. Richard Alsop (a loyalist) (South Green)
This organ was a small tracker (mechanical) organ that had some detail engraving on the front of the case which included a bishop's mitre (hat) entwined with a crown, symbolizing the King of England. As the revolution fever grew, this bit of decoration became the subject of much consternation! When the congregation relocated to a new church building on Broad Street, a new organ was installed, without decoration...
1830 John Porter installs new organ in exchange for existing instrument (Broad Street)

1861 EG & G Hook and Hastings Organ ($2000 and Porter organ)

1874 Moved to new building, a water motor was installed

to pump the bellows for wind in the organ!

1921 Casavant organ – gift of Miss Ella Haskell ($20,000.)

Dedicated by

Charles Corboin, Feb. 1922

1948 MP Moller (of Hagerstown, MD) contracted for repairs and maintenance. Reeds revoiced

New Harmonic Trumpet (the current chamade) installed in the Solo chamber.

1956 Moller dismissed, JH Brunner contracted for maintenance.

1957 Major water damage to Pedal Diapason. JH Brunner and Austin consulted.

1960 LG Monette (tonal finisher for Aeolian Skinner of Boston) "renovation" Not completed?

1961 Renovation by Ferrara & Bishop begun. Maintenance contract

New pedal chest installed, old Great Diapason moved to this chest

1966 New console built by Casavant, John Fenstermaker, consultant.

4' Flute (and rest of Solo pipework?) given to Ferrara & Bishop in exchange for "extra work" required for the installation. Celesta sold to Allen Miller for $25.00

1968 Francois Gendron "Casavant Organ men take care of this organ"

1969 Austin Organs (Charles Aitken and Alan McNeely) Maintenance

Tin slide tuners installed in Swell and Great (through late 1970's ?

)

1980 J Clem Young begins "renovation"

All pipes removed & cleaned. 16' Pedal Diapason – seven pipes and a new chest were built by Dick Bengston, who also built the chamade chest, with the Moller Harmonic Trumpet. Missing pipes from the old Solo division were replaced, a 1921 EM Skinner harp was installed. Solo, some Swell, Great releathered.

1982 Andrew Huntington reconstructed Great and Swell Mixtures. An old Vox Humana chest was reconfigured and old pipes were used to create a two-rank Pedal Mixture. It was never installed.

1984 Basement fire causes problems with the console and wiring. JCY is contracted to clean and re-wire the organ. (wiring not completed) Console and all chancel reeds sent to Casavant. Chamade Trumpet cleaned by JCY. Chimes installed, 32' electronic bass installed, swell engines releathered.

Additional stops and reservoirs releathered over the next decade.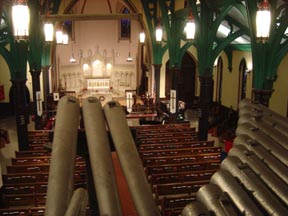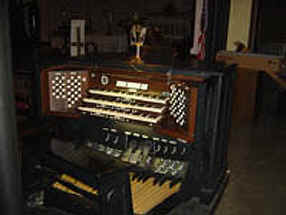 A view from the Trompette-en-chamade The 3-manual console (1965)

Proposed Organ Specification (Prepared Stops in Red)
Great
1. 16' Bourdon
2. 8' Principal
3. 8' Hohlflote
4. 8' Rohrflote
5. 8' Oboe Gamba
6. 4' Waldflote
7. 4' Octave
8. 2 2/3' Twelfth
9. 2' Fifteenth
10. Fourniture, IV
11. Mixture, III
12. Mounted Cornet, III
13. 16' Trombone (Ped)
14. 8' Tuba (solo)
15. 8' Tromba
16. Chimes
Swell
17. 8' Open Diapason
18. 8' Stopped Diapason
19. 8' Viola da Gamba
20. 8' Voix Celeste
21. 4' Flauto Traverso
22. 4' Principal
23. 2 2/3' Nazard
24. 2' Flageolet
25. Mixture, III
26. 16' Posaune
27. 8' Trumpet
28. 8' Oboe
29. 4' Clarion
30. 8' Vox Humana
27. 8' Trumpet en Chamade (solo)
Sw/Sw 16-X-4
Choir
28. 8' Geigen Diapason
29. 8' Voce Umana
30. 8' Gedeckt
31. 8' Dulciana
32. 8' Unda Maris
33. 4' Violina
34. 8' Clarinet
Ch/Ch 16-X-4
35. 8' Phonon Diapason
36. 8' Harmonic Flute
37. 8' Gemshorn
38. 8' Celeste
39. 4' Octave
40. 4' Concert Flute
41. 16' Bombarde (ext. tuba)
42. 8' Flugel Horn
43. 8' Tuba
44. Harp
45. 8' State Trumpet
48. 32' Contra Diapason (elect)

49. 32' Bourdon (elect)

50. 16' Principal

51. 16' Sub Bass

52. 16' Bourdon (from gt)

53. 8' Principal

54. 8' Bass Flute

55. 4' Choral Bass

56. 4' Flute

57. Mixture, II

58. 16' Trombone

59. 16' Posaune (from sw)

60. 16' Bombarde (from solo)

60. 8' Tromba

61. 4' Clarion

A Photographic Voyage through the organ....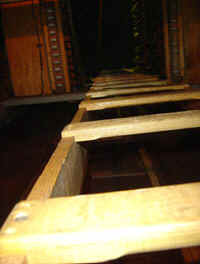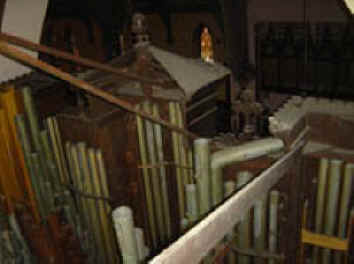 One of many ladders to climb... to a view from the back of the facade.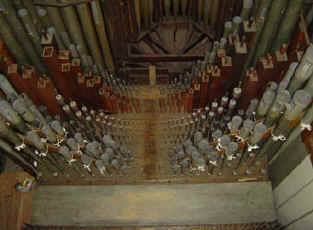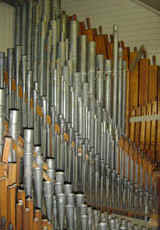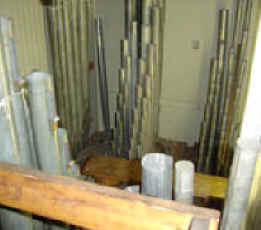 Great Organ Swell Organ Choir Organ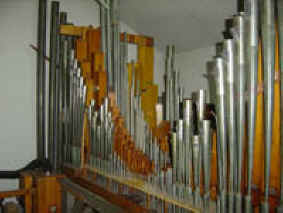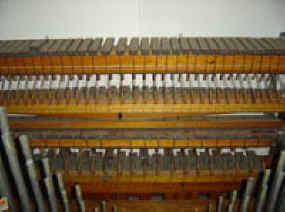 Solo Organ E.M. Skinner - Harp Action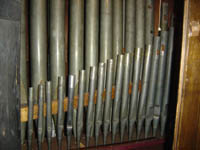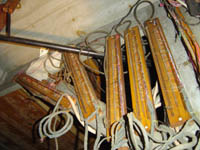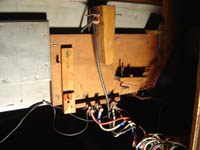 Pedal Div. Pipes - before! Wiring... eek!

RELEATHERING...
Before:
After:
before & after pedal action (releathered)

The Chapel Organ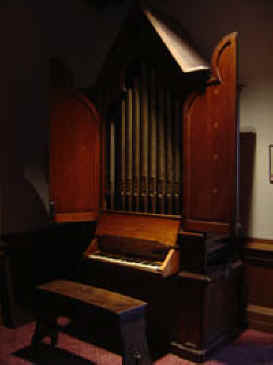 Zeno Fedeli Organ (chapel)
Principale 8', Flauto 8', Flautino 4', 2'
The church's former Director of Music, Mr. Gordon Adams, discovered this instrument lying in a music shop on Via Roma, Naples, Italy. It appears to have been build around 1860 in a town near Assisi. It was sitting unused in a church in Naples for over two decades. It was packed and moved to Philadelphia by the US Navy, later moved to the Miss Porter's School in Farmington, Connecticut. Work had been effected on the instrument by a builder in New York and later, was given by the school to the Church of the Holy Trinity in 1980.